Racial and economic disparities in health care are known factors contributing to higher morbidity and mortality among those with lower income, and black, indigenous, and people of color (BIPOC), as compared to white Americans. These disparities have a dual impact – not only are they resulting in differences in the actual care and treatment that COVID-19 patients receive, but they also put people in BIPOC communities at higher risk of contracting COVID-19 in the first place. Join a panel of local community members on Friday, August 7 at 12 PM on Zoom and from the Museum's Facebook page on Facebook Live. Questions may be submitted in advance to info@wvmcc.org, or live via Zoom Q&A, Zoom Chat, or FB Live. Live Spanish translation will be provided by Clarius Languages, to access this feature participants need to log-in with the Zoom log-in and select the Spanish audio channel under the world icon. 
Panelists
Kimberly Steensma, ARNP, Columbia Valley Community Health
Dr. Ashley Simpson, D.D.S.
Jorge Rivera, Associate Vice President, Director, Community Engagement, Molina Healthcare of WA
Dr. Bindu Nayak, MD, Endocrinology, Co-chair of Health Equity, Diversity and Inclusion council, Confluence Health
Dr. Mabel A Bodell, MD, Nephrologist/Transplant Nephrologist, Co-chair of Health Equity, Diversity and Inclusion council, Confluence Health
Keith Howard, Attorney, Northwest Justice Project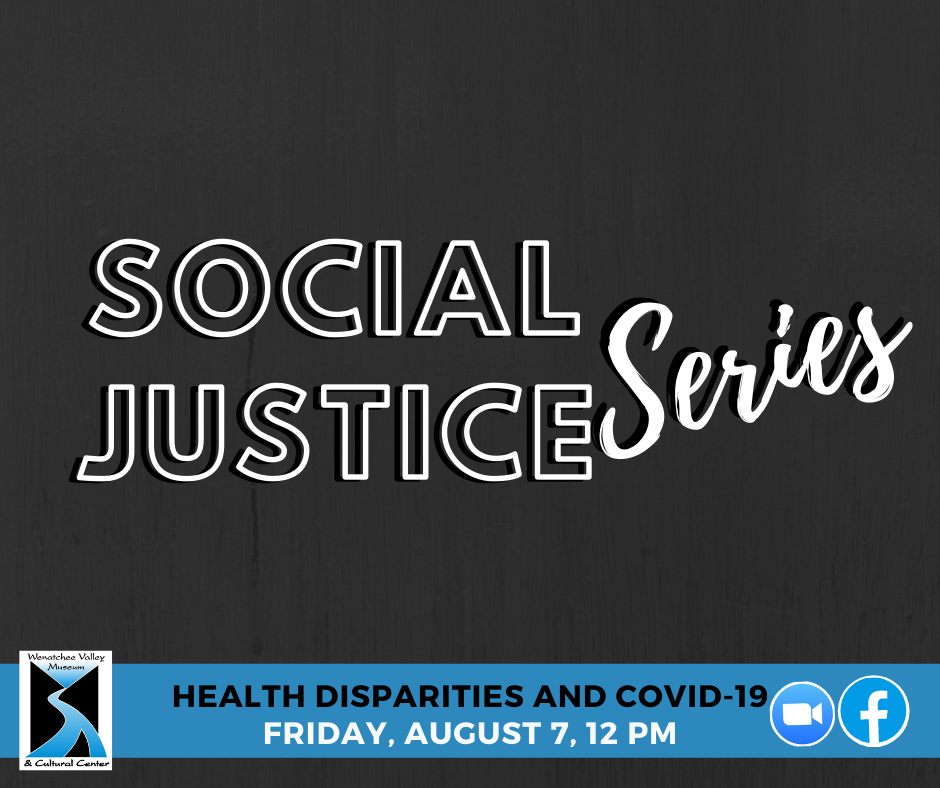 ZOOM LOGIN INFORMATION:
https://us02web.zoom.us/j/86909320004 
Or iPhone one-tap :
US: +12532158782,,86909320004# or +13462487799,,86909320004#
Webinar ID: 869 0932 0004
Zoom instructions: Before joining a Zoom meeting on a computer or mobile device, you can download the FREE Zoom app. Otherwise, you will be prompted to download and install Zoom when you click a join link. Click on Join Meeting, and enter the Meeting ID, then the password. Connecting is free and only takes a minute.
OR FOLLOW US ON FACEBOOK TO VIEW THE EVENT ON FACEBOOK LIVE