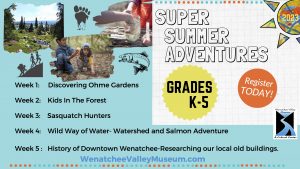 Join us for week 3 of our Super Summer Adventure Camps July 24 – 27  from 9:00 AM – 3:00 PM
The legends of Bigfoot have been around for decades – even centuries. Bigfoot
is also called Sasquatch, which means "wild men" in a Native American language of the Salishan
family. Come learn with the experts to test your science and research skills and see if you are a
believer.