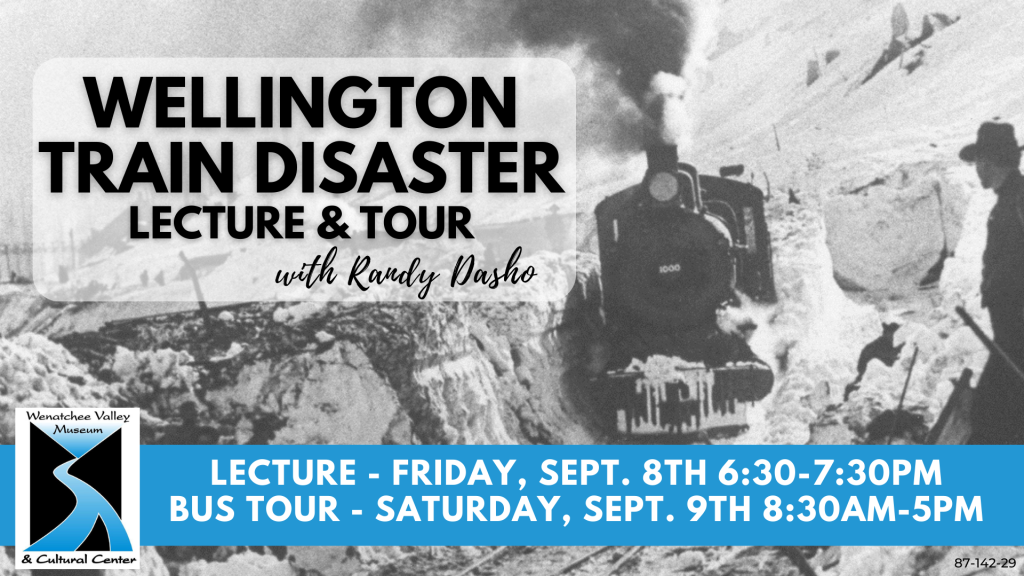 On March 1, 1910, the deadliest avalanche in North American history swept down the snowy Cascades, burying two trains and killing 96 people.
We are offering a guided tour of the Wellington Site led by Randy Dasho on Saturday, September 9th. This tour visits several other sites between Leavenworth and Stevens Pass that played important roles in the history of the Great Northern Railway Company. Tour-goers meet at the Wenatchee Valley Museum to board a tour bus that departs at 8:30 AM. The bus heads west on U.S. Highway 2, stopping for discussion at different points of interest. The final stop is at the interpretive site at Wellington, where participants will have lunch and take a half-mile walk around the area of disaster. The bus will return by 5 PM. Please bring a lunch, plenty of water, and good walking shoes. 
Randy Dasho of Port Orchard, WA, will speak about the Great Northern Railroad and the Wellington Disaster of 1910 at 6:30 PM on Friday, September 8th. The lecture is free and open to the public. Attendance at the lecture is not required for attendance at the bus tour. For more information about the lecture, click here.
To register for the bus tour, please click here.
The cost for this bus tour is $55 for Museum members and $75 for non-members.